Traditional Integrations for Fulfillment
One major challenge facing fulfillment companies is getting merchant orders into an order management system (OMS) or warehouse management system (WMS). Many fulfillment companies find it difficult and expensive to bring on new merchants that sell their products through shopping carts or marketplaces not currently integrated with the fulfillment company. In the past, the solution was to pay to develop, and maintain an integration for the shopping cart or marketplace, often at a cost of several thousand dollars, or spend many recurring hours manually downloading orders. These options are expensive or time consuming and error prone.
CartRover Integrations for Fulfillment
CartRover offers a better solution. We build and maintain integrations with the web's most popular shopping carts and online marketplaces. These integrations are available to all CartRover Fulfillment users, allowing your company to offer any available integration to your merchants with a low monthly cost. It takes less than 5 minutes to get orders flowing into your warehouse when you setup new merchants using CartRover.
CartRover Standard Workflows

Loads orders from your Shopping Carts & Marketplaces
Sends orders to your Warehouse or Order Management System
Picks up tracking & inventory from your Warehouse or Order Management System
Send tracking & inventory to your Shopping Cart or Marketplace.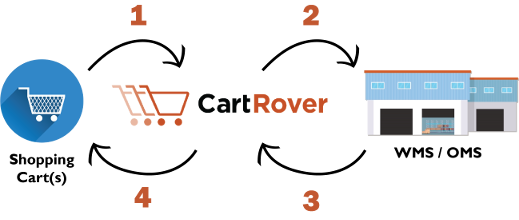 Other workflows may be available depending on your specific cart and OMS/WMS functionality:
Product Data Sync
Purchase Order or ASN Sync
Return Sync