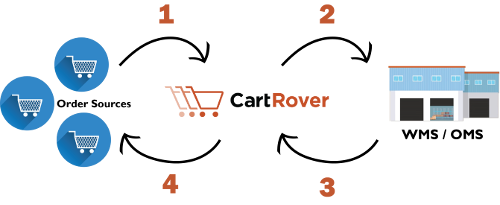 The Merchant Plan is designed for individual merchants looking to connect their existing sales channels to in-house or third-party fulfillment Warehouse/Order Management/Shipping Systems. CartRover also offers integrations with our Preferred Partners, making it simple and straightforward to use their systems in your business.
There are no setup fees (see exceptions below) and no contracts. Simply sign up for a CartRover Merchant account, pick your integrations (order sources), enter your credentials, and you're up and running! With CartRover you never pay for things you don't need. You can add and remove order sources as needed and any additional order sources are just $15/month each with your CartRover Merchant account.
Key points of the Merchant Plan:
Add and remove order sources as needed - No contracts
Choose from any of our Integrations or Preferred Partners - Or print your own shipping labels
$30 per month for the Merchant account (includes one order source and destination)
Only $15 per additional order source - We can connect to all your sales channels
Setup fees apply only for SPS Commerce, CommerceHub, and Salesforce
Are you looking for a third-party fulfillment center to ship your goods? Contact one of our pre-integrated Preferred Fulfillment Partners.
See our Preferred Fulfillment Partners