WMS Name: TradeGecko (View Site)
CartRover WMS Integration: View Documentation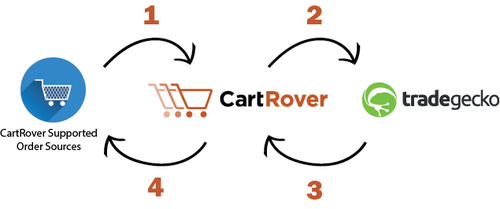 About CartRover

CartRover connects all our dozens of supported shopping carts and marketplaces to your TradeGecko account in just minutes for a low monthly fee (see pricing). CartRover can also take your TradeGecko orders and send them to your preferred warehouse or 3PL for shipping. CartRover will automatically load new orders and send back tracking information and inventory levels.
CartRover is simple and straightforward.
About TradeGecko

TradeGecko is one of the most popular Inventory Management Systems on the market for modern merchants. It is a terrific tool for online merchants to easily manage inventory and sales across many sales channels. Commerce is evolving. Your inventory and order management should too. Work smarter with TradeGecko, a connected solution designed to help you grow.

Key TradeGecko Features Include:
Manage all your sales, stock, accounting, shipping and customer data from a single place
Easily control your stock in multiple locations, manage sales and purchase orders in a click, and even automate backordering!
Integrate with the other apps that you work with and sync data.

CartRover is integrated with TradeGecko in two ways:
You can either use TradeGecko as an order source and send orders from TradeGecko to a 3PL provider or WMS system
OR you can send orders from a shopping cart/marketplace to TradeGecko if you plan to fulfill your orders in TradeGecko.
CartRover connects the following order sources to TradeGecko OMS: