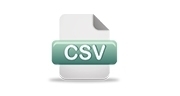 Cart Name: CSV Files
CartRover Price: No extra fees. All orders sources are included with all plans.
CartRover Integration: View Documentation
CSV Files are one of the most common formats eCommerce shopping carts support. CartRover provides terrific tool for online merchants and fulfillment centers to easily load any CSV format without needing expensive custom programming. If you find that your store grows quickly, you will end up bogged down with shipping and managing all of those orders every day. You will find that you need a more powerful shipping system, or even need to hire a 3rd party fulfillment center so that you can concentrate on what all small business owners need to – marketing and selling your products. If this is the case, then you will need a way to integrate your CSV files with another piece of software. You will also need to sync your inventory and order tracking information so that your store is constantly updated.
CartRover is designed to manage this process for you in a simple and inexpensive manner. CartRover was developed by programmers with years of experience in order management. It is pre-integrated with most popular shopping carts and can be configured to automatically download orders, sync inventory and upload shipment tracking information back to any CSV source.
If you are interested in using CartRover for CSV file integration, read up on how it works or you can take advantage of our free trial. Let CartRover simplify your Ecommerce order flow!