Cart Name: ApparelMagic (View Site)
CartRover Integration: View Documentation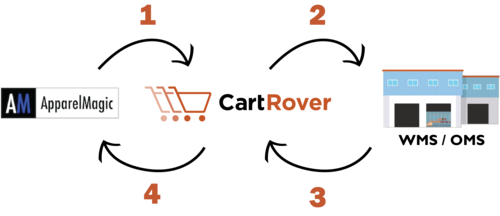 About CartRover

CartRover connects your shopping cart and marketplace accounts with almost any Order Management system or Warehouse in just minutes for a low monthly fee (see pricing). CartRover will automatically load new orders and send back tracking information and inventory levels.
About ApparelMagic
"ApparelMagic is the fashion industry's leading cloud-based management software since 1984, providing high-performance systems for ERP, CRM, PLM, Sales, Inventory and Accounting.
ApparelMagic features affordable monthly and annual subscription plans, a friendly, intuitive user interface, included customer support and training seminars, and a flexible open API for expanded integration.
For over three decades, ApparelMagic has been the first choice for both established market leaders and up-and-coming fashion innovators."
CartRover is integrated with ApparelMagic in two ways:
You can either use ApparelMagic as an order source and send orders from ApparelMagic to a 3PL provider or WMS system
OR you can send orders from a shopping cart/marketplace to ApparelMagic if you plan to fulfill your orders in ApparelMagic